Creating a cocoon crochet cardigan can be done in several different ways. Learning how to crochet is fun process but it takes time to develop a technique. My goal is to show you how to create beautiful crochet creation from a beginner's perspective. Simplifying the process so you can fall in love with crocheting and learn more complicated techniques, as you get better. This tutorial/pattern will allow you to create a cardigan using basic crochet stitches.

Materials Needed for the Cocoon Cardigan
• Yarn Suggestion- Yarn A) Bernat Softee Chunky- 5 Skeins Yarn B) Charisma– 2 skeins
• Hook- 9mm
• Yarn Needle
• Scissors
Legend:
ch- Chain
dc- Double Crochet
sl st- Slip Stich
Notes:
This cocoon cardigan is like a one size fits most. However, these instructions have been written for a Large/XL size, but you can completely customize the project to fit all sizes. The size is roughly the height of a person divided in half.
For Example: 5'4=64" square would be 33"
You will be making a square, for the most part, if you have a larger bust area you can add more rows, which will make your cardigan wider.
If you want to make it longer then you'll add more stitches in the foundation chain. Measure across your chest and then chain a bit more.
Size Chart (this is an approximate):
Small- ch 48
Medium- ch 52
Large- ch 56
Note: Keep in mind, measure yourself (shoulder to shoulder) and then chain enough to cover the distance. If you are making for someone else use the above measurements as a template.
Checkout another crochet project:
Written Instructions Cocoon Cardigan:
• Make a slip knot. Tighten around the hook.
• Ch 60 plus 3 (There will be 61 stitches in each row counting the turning chain) chains. Be sure to not pull your yarn too tight around your hook or it will be difficult to work the stitches in the foundation chain.
• Rows 2- until desire size – DC into 2nd stitch, continue down the row. Place stitch in the turning chain stitch. Ch 3, turn work and repeat.
Notes:
For pattern, complete 4 rows using Yarn B, 15 rows of Yarn A, 3 rows of Yarn B,
18 rows of Yarn A. (This can be alter to whatever color pattern you like.)
Constructing Cocoon Cardigan:
Once Cardigan Panel is complete, fold in half
Measure 7" from the fold and sew down from there to create arm holes
Arms:
• Complete 6 rounds of single crochet around each arm hole to make sleeve area
• Once desired sleeve length is obtained, finish off work, with a knot
• Weave in all the ends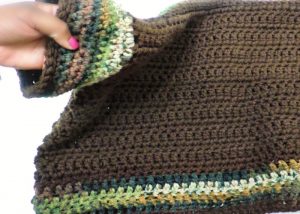 Check out the below video to help with a visual construction of the Cocoon Cardigan:

Please follow and like us: