This post may contain affiliate links, view the disclosure policy for details.
The crochet loop scarf or crochet chain loop scarf is a beginner pattern that uses one stitch throughout the entire project. The single crochet stitch is used to create individual cuffs, which are linked together to make a pretty crochet project. The best part of this project is it created uses scrap, which makes this a perfect project to help dwindled down your yarn stash.  I love the drape of  Lion's Brand -Hometown yarn, and luckily I had quite a bit of this yarn, in my scrap pile. I also used the Homespun yarn by Lion's Brand too. Now, keep in mind the goal is to use your yarn scrapes
There is a video tutorial below to see my version of the crochet loop scarf.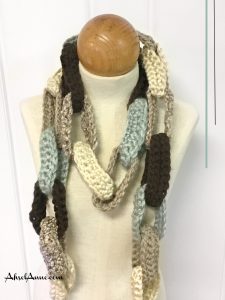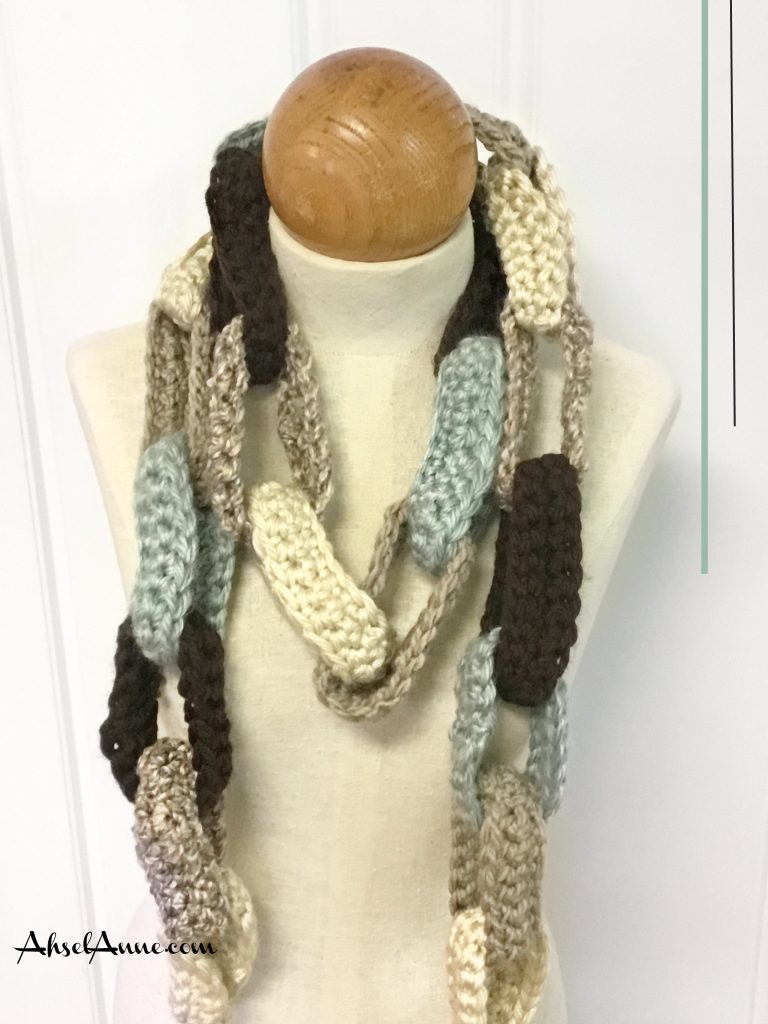 As with many crochet projects, creating fun, unique projects can be done in many different ways. Learning how to crochet should be a relaxing process but it can take time to develop a technique that works best for you. My goal is to show you how to create beautiful crochet projects from a beginner's perspective.
This scarf is a great beginner's project because it repeats the same stitch throughout the project.
Note:
This pattern is written in US terms and there is a key provided, to help with any abbreviations. Also, there have been Notes placed throughout the pattern to provide additional help. There are a few pictures and along with the instructional video.
Materials Needed for Crochet Loop Scarf
• Yarn Suggestion- Bulky Yarn
• Hook- 9mm
• Yarn Needle 
• Scissors
Abbreviations (US Terms)
ch- chain
sc- single crochet
sl st- Slip Stich
tw- turn work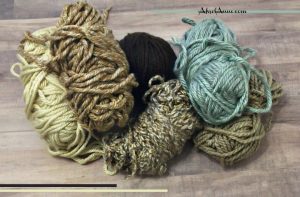 In addition to this begin a quick and easy crochet project, the crochet scarf can be customized to fit anyone.
To Adjust Size:
Determine the length of the scarf you want to create:
Small Scarf- Measures approx. 55"
Medium Scarf -Measures approx. 70"
Large Scarf -Measures approx. 82"
Create a cuff, measure the cuff to determine the length. Divide the length of the cuff by the desired length of the scarf you want to create. This number will represent the number of cuffs you will need to create.
Example:
If you want to create a large scarf, 80" and the cuff you created measures 4" then you would need to create 20 cuffs. (80/4=20 cuffs).
Written Pattern
Ch 20+1
1) Row 1: sc in 2nd ch from hook and in each stitch across. Ch 1, tw.
2) Row 2: sc in each stitch across, ch 1, tw.
3) Row 3: sc in each stitch across.
Leaving a 6" tail, cut and fasten off.

4) Repeat the steps above until 21 strips or the desired number of strips, based on the size of the scarf you are created.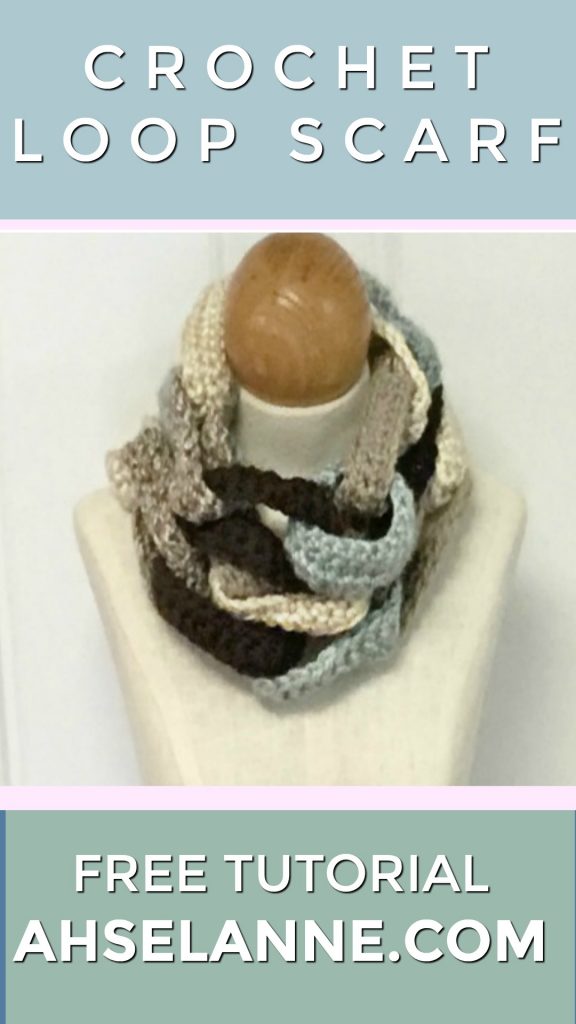 Constructing the Scarf
Arrange strips in the desired pattern.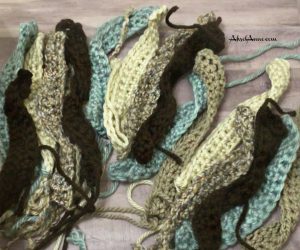 1. Take the first strip, curve into a circle to create a cuff. Secure the cuff by sewing raw ends together.
Note: There are a few tips, found on the video tutorial below, on ways to create the scarf.
2. Take the second strip, insert the strip through the cuff, curve into a circle to create another cuff. Secure the second cuff by sewing raw ends together.
3. Continue to link the cuffs together until all strips have been linked together to create a long scarf.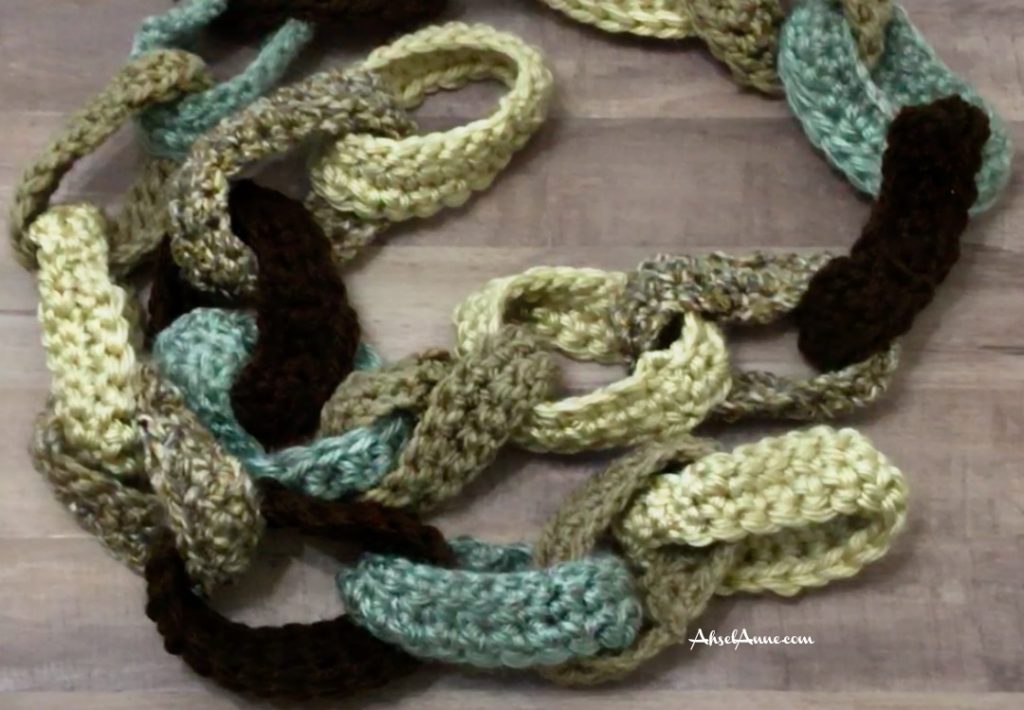 Want an Ad-Free Pattern Click HERE: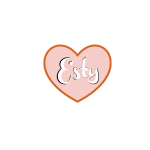 Check out the instructional video below:
Please follow and like us: