Time has become a luxury that many people take for granted. Handwritten Thank You Cards and noteshave become a nostalgic gesture. Long gone are the days when people take the time to talk face to face, let alone, write a handwritten note. However; I still love the gesture and the act of receiving handwritten notes, especially handwritten thank you cards.
Thank you notes are a perfect way to show you really appreciate someone's time, efforts and energy. They are a true gesture of gratitude. I am so appreciative to Suphouse for sending me these well-crafted Handwritten Thank You Cards. These greeting cards have 6 stylish designs on the front and a 4×6 blank space to create a personalized message.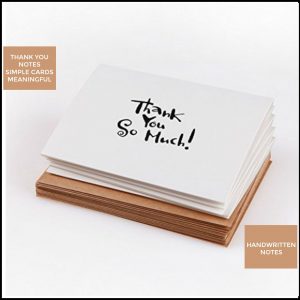 Whether you need to thank someone for their business, wedding, baby shower, graduation gifts or even a job well done, these note cards are created on matte – premium cards stock paper and each card comes with a rustic brown envelopes. They are well designed and perfect to have on hand for so many occasions.
I wanted to take the time to share these awesome thank you cards with you because handwritten notes help to slow us down. They make us take time to be thankful for the large and small blessing of life. They allow us to appreciate others and the sentiment that life is precious and kind gestures should be recognized.
Always remember a note of gratitude goes a long way especially when you want to show someone you appreciate them. In business, often times, the personal touch is what makes a difference. Simple gestures, such as handwritten notes, can help foster professional relationships and they can deepen the bond of family and friends. Whatever the occasion, a handwritten note written on the inside of these adorable, well crafted greeting cards can prove to be a positive and thoughtful way to show someone you care.
If you are interested in these little treasuries; please click on the link below:
http://www.amazon.com/gp/product/B078LPGW1C
Please follow and like us: