Warning
: Array to string conversion in
/home/ahsela5/public_html/wp-content/plugins/tiled-gallery-carousel-without-jetpack/jetpack-carousel.php
on line
261
Warning
: Array to string conversion in
/home/ahsela5/public_html/wp-content/plugins/tiled-gallery-carousel-without-jetpack/jetpack-carousel.php
on line
261
Warning
: Array to string conversion in
/home/ahsela5/public_html/wp-content/plugins/tiled-gallery-carousel-without-jetpack/jetpack-carousel.php
on line
261
Warning
: Array to string conversion in
/home/ahsela5/public_html/wp-content/plugins/tiled-gallery-carousel-without-jetpack/jetpack-carousel.php
on line
261
Warning
: Array to string conversion in
/home/ahsela5/public_html/wp-content/plugins/tiled-gallery-carousel-without-jetpack/jetpack-carousel.php
on line
261
Warning
: Array to string conversion in
/home/ahsela5/public_html/wp-content/plugins/tiled-gallery-carousel-without-jetpack/jetpack-carousel.php
on line
261
Crochet Squeeze Pouch | Flex Frame| Pinch Pouch for Sunglass Holder
The Crochet Squeeze Pouch has a squeeze top opening. The top is opened with just a squeeze of your thumb and finger and snaps close when you release the pressure.  This pouch is perfect for a coin purse, sunglass holder, or even to hold a few make-up items.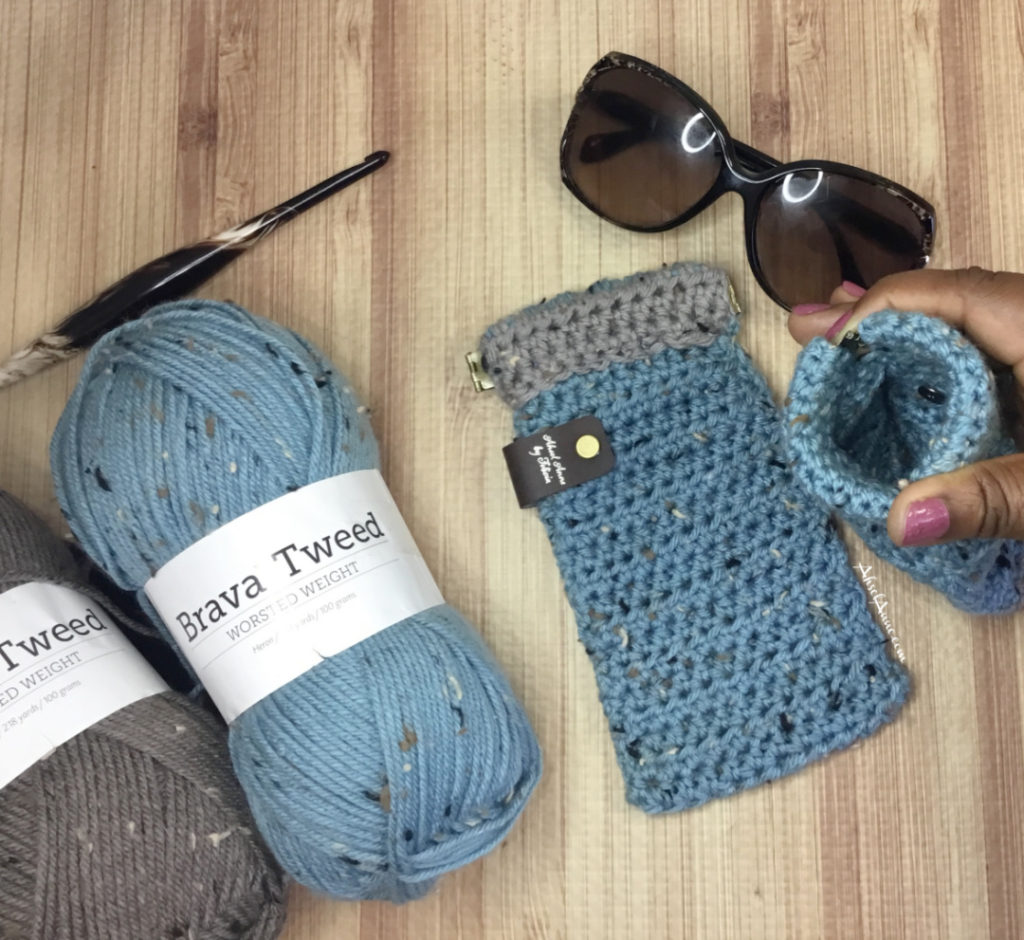 This project is created using a couple of different stitches,  the single and, the half-double crochet stitch.  It's a beginner-friendly pattern and it can be easily worked. When finished you should have a nice crochet squeeze pouch.
YARN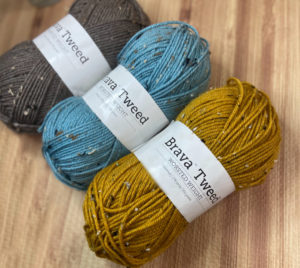 I use an acrylic yarn, Brava Tweed from KnitPick. This yarn is made of 97% acrylic and 3% viscose, it is a 4-weight yarn that comes in a skein of 218 yards, 100 grams.
Click here or on the image below to see all the wonderful colorways that This yarn has to offer!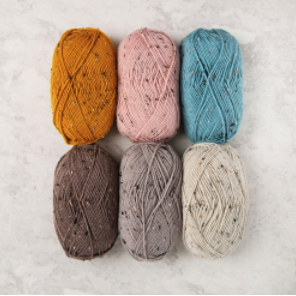 This is the perfect project to use up some of your yarn stash. Depending on the size of your pouch, you will only need a small amount of yarn. This project was completed with 2 yarn colors.
SUPPLIES
Yarn
Acrylic Yarn or any yarn that is durable (2 colors; optional)
Hook (Use a crochet hook that corresponds with your yarn)
Crochet Hook- Furl Odyssey 5.5mm
Notions
Yarn Needle
Scissors
Stitch Markers (Optional)
Flex Frame- Squeeze Closure
PATTERN DETAILS
Skill Level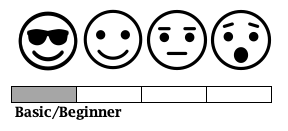 This is a project for the beginner. If you are new to crocheting you need to be comfortable completing single crochet, double crochet stitch, and an Alpine Stitch (Similar to a front post stitch).
Note: This pattern is written in U.S. terms and there is a key provided, to help with any abbreviations. Also, there have been Notes placed throughout the pattern to provide additional help. There are a few pictures and instructional videos, that have tips on the different stitches used, The videos can be found on my YouTube -AhselAnne.
Gauge
The gauge may vary based on your crochet style and it is not a crucial component of this project.
Finished Measurement
7 1/4″ x 4″ (Wide)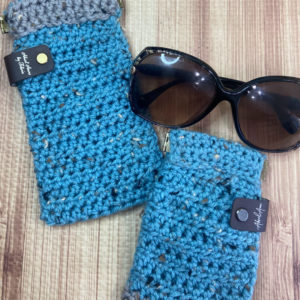 Abbreviations (US Terms)
ch- chain
hdc- half double crochet
sc- single crochet
st(s)- stitches
sp- space
sl st- slip stitch
tw- turn work
yo- yarn over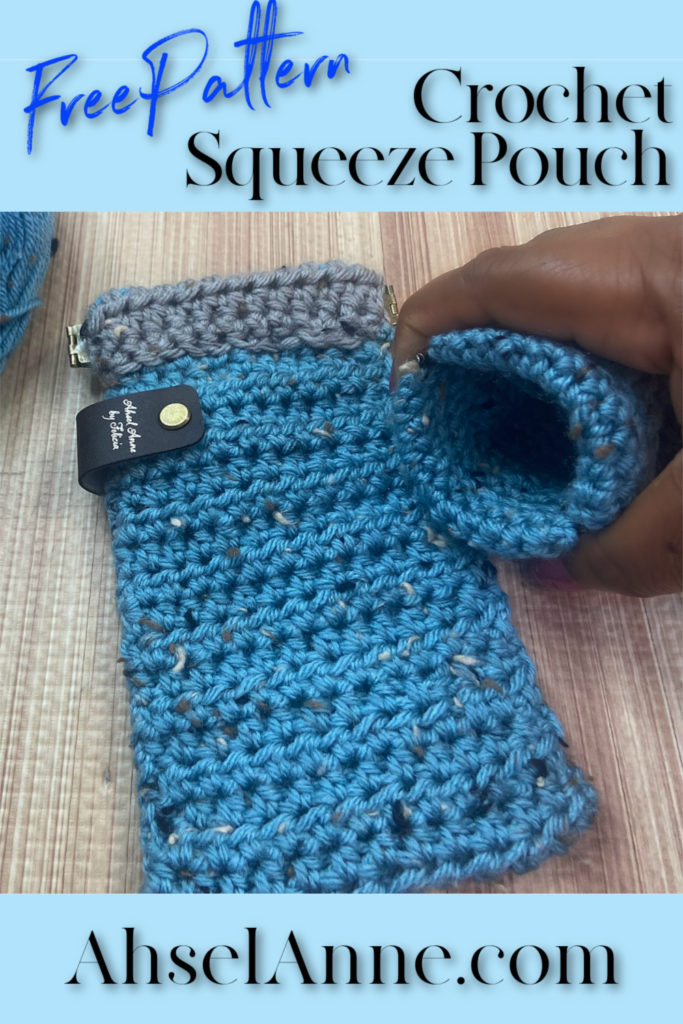 Looking for another fun pouch? Try this project next:
Written Pattern for the Crochet Squeeze Pouch
Using the Flex Frame Squeeze Closure will allow the pouch to have a squeeze top opening.  Which makes the pouch perfect for holding sunglasses, coins, or even make-up.  The closure I used was purchased from Amazon. Check the link to see if you can find the same one or something similar.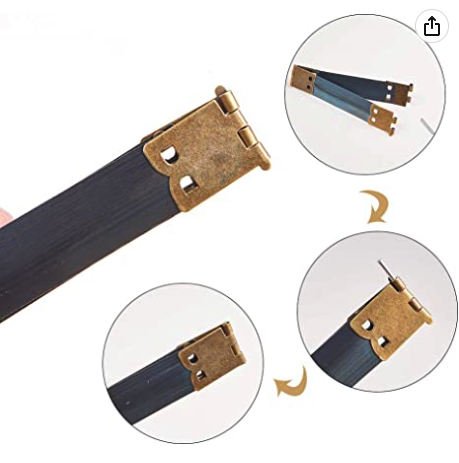 Top Portion of Pouch
Color A – Grey
Using a 4″ Squeeze Closure.
Ch 14 or 4″ in length depending on your gauge.
R1 – Place a sc in second st from hook; sc across each stitch (13); ch 1; tw
R2- R7: sc into each stitch across  13), ch 1 tw
Main Section of Pouch
Change Pattern and Change Yarn Color (Blue)
R8-R37 Hdc, each stitch across; [13]; ch 1;  tw
Note: Ch 1 does NOT count as the first stitch. Hdc into the first stitch.
Bottom Section of Pouch
Color A – Grey
R38-R44:  sc into each stitch across  [13], ch 1; tw.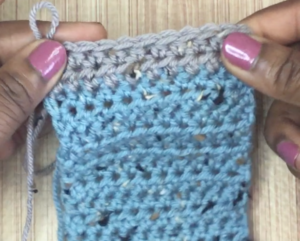 Fasten off; Leave a tail, approx. 24 inches to sew closure into place.
Construction of Crochet Squeeze Pouch
1. Lay swatch flat; fold in half.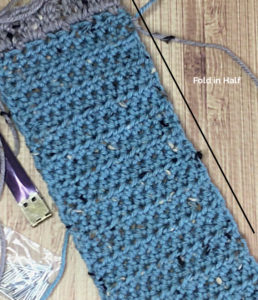 2. Sew along the raw edge of the pouch, along the left or right side.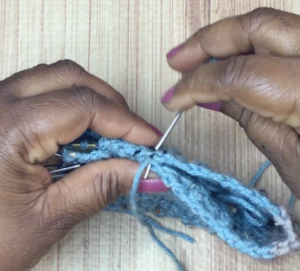 3. Place the opened Flex Frame, and lay it  down at the top of the crochet swatch
4. Fold the top of the crochet swatch down, to cover the Flex Frame. (You will sew along the area to secure the FlexFrame in place).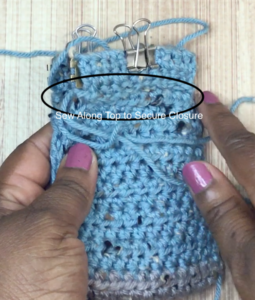 Note: (This step will be repeated on the opposite side, sewing the closure into place).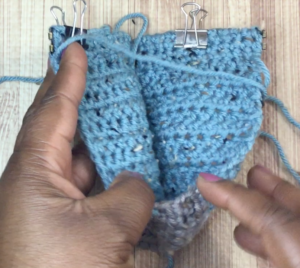 5. Sew along the opposite side's raw edge of the pouch (left or right side)
6. Close the clasp, align the hinge and secure the clasp; by inserting the hinge pin (this is provided with the kit)
The Lucet Fork from Furl Crochet is so beautiful and a little hard to get my hands on. The vintage design and detail-oriented craftsmanship are just as gorgeous,

Nevertheless, if you can get your hands on one I'm sure it will be a great addition to your crochet tools.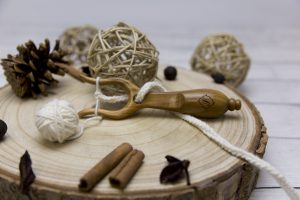 7. Adjust the pouch to ensure everything is neat and adjusted. Weave in any tails and enjoy your Crochet Squeeze Pouch.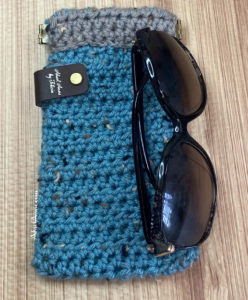 For a Visual Tutorial of the Crochet Squeeze Pouch
Checkout the Below Video:
Please follow and like us: