Check out my newest creations. These easy, crochet blanket beginner projects are fun to make.
These blankets are very plush and comfy and honestly, they work up really quickly. I've created a YouTube tutorial that I hope is helpful. Their size can be easily modified based on your needs.
What You Will Need:
4 Skeins of Bernat Blanket Yarn
Size P (12mm) or Q (16mm) Crochet Hook
Blankets- Blue and Gray- Measure 47 wide x 48 (using size P) and Pink and Orange- Measure 59 wide x 60 (using size Q hook)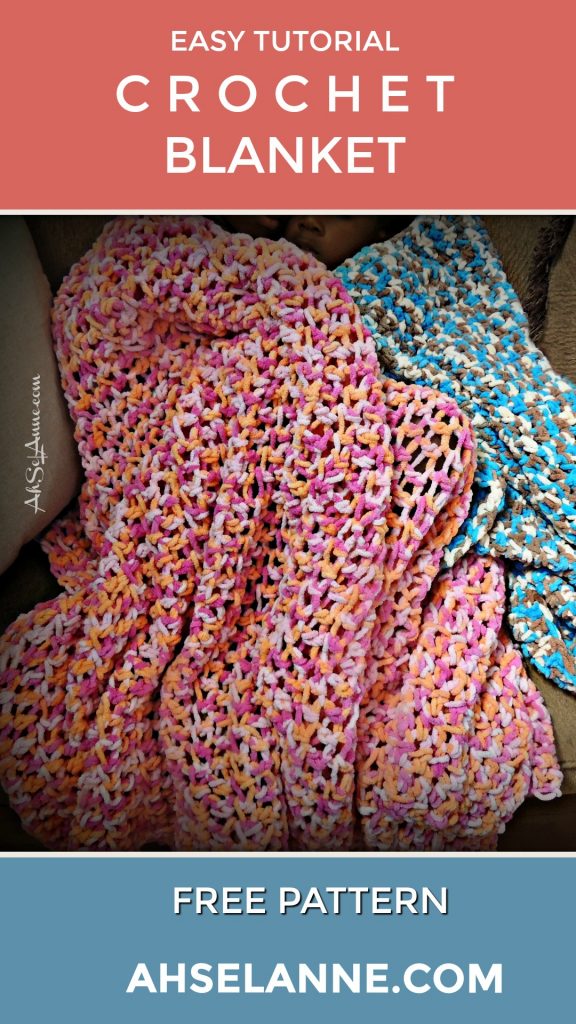 Written Instructions- Crochet Blanket Beginner Project
Using the Bernat Blanket yarn make a slip knot.  Tighten around the hook.
Chain 70 chains (approx. 47 inches using the P hook and 59 inches using the Q hook). Be sure to not pull your yarn too tight around your hook or it will be difficult to work the stitches in the foundation chain.
Rows 2 – Ch 2 and place a Half Double Crochet (hdc) in 3rd chain from hook and repeat the hdc in each chain, all the way down the foundation chain. Remember to not pull too tight or your chain will become too tight to work into effectively
At the end of the row, chain (Ch) 2 and turn your work.
Row 3-70 or (the length of your blanket)- HDC in 2nd stitch, remember to skip the first chain from the hook, continue in each stitch.  Be sure to complete a hdc in the last turning chain stitch.
Continue this process until you reach the end of your first skein. (Once your yarn runs out, tie the end of the yarn with the beginning of the new skein of yarn) and continue.
This project uses 4 skeins of yarn (but can vary based on the size of blanket
Weave in all the ends
Check out this video too:
Additional Information
The blue and gray blanket used the same type of yarn and have the same foundation change; however, I used a size P crochet hook. This blanket was more compact and it had smaller holes. Whereas, the pink and orange blanket (pictured below), I used the same Bernat yarn and the same foundation chain, of 70, but I used a size Q crochet hook. This blanket was larger and it had wider holes.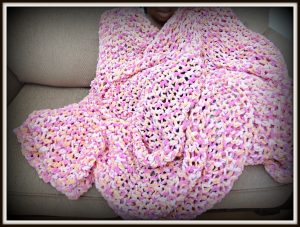 These are the coziest blankets I've ever made. I was able to complete each one, over the course of 2 weeks, working on them in the evening for about an hour or so. I hope you enjoy making this easy, crochet blanket beginner project as much as I did.
Psst: Don't forget to use your 40% off coupon for Michael's or Joanne's Fabric, it can save you some money!!! Happy Crocheting 🙂
Please follow and like us: