Bundle your baby with this easy V-Stitch Crochet Baby Blanket…This easy crochet baby blanket using a v-stitch pattern and is quick and easy to make. This is a plush, cozy blanket created with Bernat Baby Blanket Yarn. This beginner-friendly blanket is perfect for you, as a gift or for your little bundle of joy.
I used Bernat Baby Blanket Yarn in the color 'Little Denim'. This is a super bulky yarn and can use an 8mm crochet hook or larger. I used a size 10mm hook to complete this project.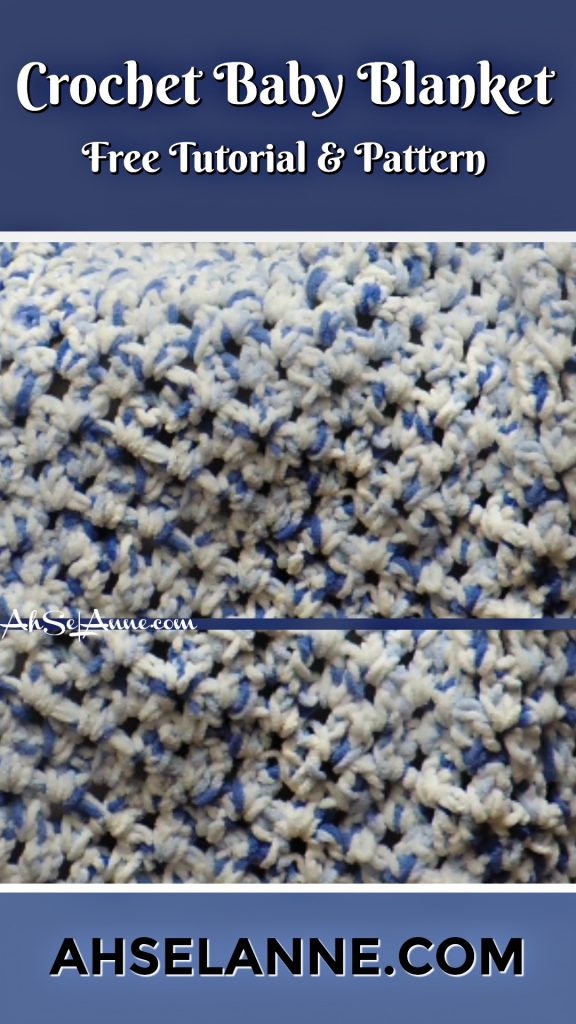 Be sure to check out my YouTube video for additional information. This blanket can be modified by using an even number of stitches in the foundation chain.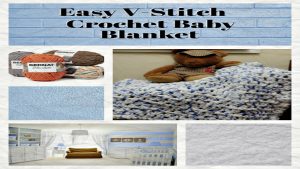 Material Needed:
Written Instructions for Easy Crochet Baby Blanket
Using the Bernat Baby Blanket Yarn, make a slip knot.  Tighten around the hook.
Chain (Ch) 42 chains (approx. 27 inches using the 10mm, N hook) Be sure to not pull your yarn too tight around your hook or it will be difficult to work the stitches in the foundation chain.
TIP: Using a larger crochet hook in the foundation chain can help to create larger stitches which may be easier to work with.
** Remember to not pull too tight or your chain will become too tight to work into.
Rows 2 – Skip 4 chains and place 2 Double Crochet (dc) (v-stitch) in the 4th chain from hook
Skip a chain and place a v-stitch 2 DC in the stitch.
Repeat the v-stitch down the row (remember to skip a chain in between each v-stitch)
Chain 3 turn your work
Row 3-in the first stitch place a single DC (only 1 DC stitch in the first stitch.
Skip a stitch and continue the original pattern (step 5).
Repeat steps 4-7 until you achieve the desired length.
Optional: A border can be placed around the blanket by completing a single stitch around the perimeter of blanket.
Check out the tutorial below:
Please follow and like us: