Crochet Flips Flops
Crochet designed flip flops are super cute and easy to create. This is an easy beginner's project that uses a single crochet stitch and a good pair of flip flops. This is a trendy style that will add a little bit of flair to your wardrobe. I usually wear my crochet flip flops around the house. Thankfully, these little gems were created using a rubber sole, so you have the versatility of moving from the house to outside.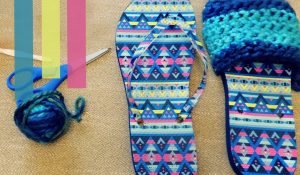 The actual flip flop design is super simple but with the right supplies it will become even easier to attach the crocheted portion to the sole. The simplicity of this project will make you want to rush but I'll caution you to just take your time and you will have an up-cycle crochet creation that will leave everyone asking, where did you get your shoes from.
The tutorial will show you how to make crochet slippers with a flip flop sole.The coolest part is once you get the idea down, the designs can be endless. You can keep it simple or even jazz it up with fancier crochet stitches. I have a few ideas floating around  my head. Check back soon to see if I've added to my emerging crochet flip flop collection.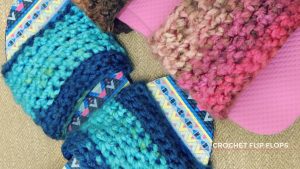 This crochet tutorial is not only easy, it's fun too. If you know how to complete a slip knot, a chain stitch and a single crochet stitch (check out my beginner's series post) and you have a little patience, you can complete this fun project in no time.
Check out the Video on How to Construct Crochet Flip Flops
Please follow and like us: