Messy Bun- Ponytail Crochet Hat
Creating a messy bun ponytail crochet hat is a fun and functional crochet project. This is a beginner's tutorial that will provide step-by-step instructions on creating a messy bun ponytail crochet hat. This hat is created using an elastic band and is designed to fit a pre-teen/adult size head.
This crochet hat has also been referred to as a ponytail hat or a pony-tail beanie. No matter the name, this simple crochet creation is a perfect hat for a person that likes to wear their hair in a ponytail or top bun but still want the comfort and style of a wearing a beanie.
As with many of my projects, creating a crochet beanie, a hat can be done in many different ways. Learning how to crochet should be a relaxing process but it can take time to develop a technique that works best for you. My goal is to show you how to create beautiful crochet projects from a beginner's perspective.
This tutorial/pattern will allow you to create a messy bun crochet ponytail hat using basic crochet stitches.
This is for the beginner/advanced beginner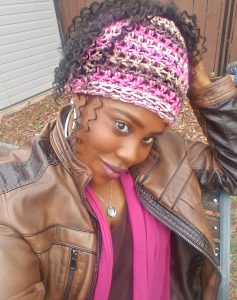 This pattern is written in basic terms, overall. There is a key provided, to help with any abbreviations.  Notes have been placed throughout the pattern to provide additional help. A few pictures along with an instructional video are attached.
Materials Needed for the Messy Bun Crochet Hat
Yarn Suggestion- Loops and Thread Charisma (Color Chocolate Cupcake) 
Hook- 9mm crochet hook
Measuring Tape 
Yarn Needle 
Stitch Markers (optional) 
Scissors: 
Legend:
ch- chain
bl- back loop
dc- double crochet
hdc – half double crochet stitch
rnd- round
sl st- Slip Stich
Note:
Messy bun hat was created for pre-teen/adult using a bulky yarn. Thus, these instructions have been written for that size and using this type of yarn. [Head size 21-22 inches].
This project can be customize to fit different sizes.
To Adjust Size:
Measure the circumference of your head. Start in the middle of your forehead, wrapping the measuring tape around your head about 1/8 inch above your ears to determine the measurement of your head. Therefore, when you create your project, you will want it to be an inch or two smaller, depending on the yarn stretch.
The hat will be approx. 2 inches smaller than your head size in order for the hat to fit snuggly on your head.
Written Pattern- Messy Bun Crochet Hat
Create a slip knot around the crochet hook to begin the process.
Insert the crochet hook into the elastic band grabbing the yarn and pulling it through the loop, see video [picture] below. Ch 3
1) Round 1: Place 24 dc stitches into the elastic band, sl st to join, ch 3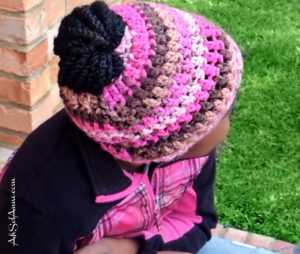 NOTE: if you want to make a smaller hat repeat Round 1 until you reach the desired height for your hat.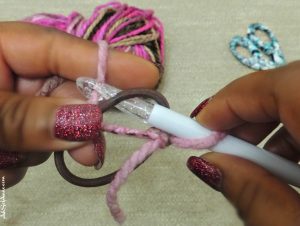 2) Round 2: [Increase Round] into the same space as the ch 3 create a dc stitch. Place a dc in next stitch (the ch 3 will count as 1 dc stitch, place 1dc into next stitch, 2dc into next stitch, 1dc in the next stitch followed by 2dc, in the next. Repeat around sl st to join chain 3 (you should have 36 stitches)
3) Round 3: Place 1 dc stitch into each stitch around, sl st to join round, ch 3 (Remember the ch 3 will count as your first dc stitch).
4) Round 4: 1 dc stitch into each stitch around, sl st to join round, ch 3
5) Round 5: Place 1 dc stitch into each stitch around, sl st to join round, ch 3
6) Round 6: Place 1 dc stitch into each stitch around, sl st to join round, ch 3
7) Round 7: Place 1 dc stitch into each stitch around, sl st to join round, ch 3
8) Round 8: Place 1 dc stitch into each stitch around, sl st to join round, ch 3
9) Round 9: Place 1 dc stitch into each stitch around, sl st to join round, ch 2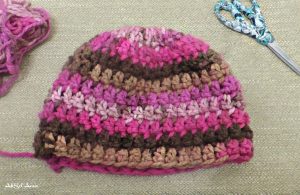 CREATING THE BRIM Messy Bun Crochet Hat
10) Round 10: hdc stitch into the bl of each stitch around sl st,to join ch 2
11) Round 11: hdc stitch into the bl into each stitch around sl st to join, finish off, weave
(If you want a larger brim repeat round 10, then proceed to instruction in Round 11)
Please follow and like us: