So, hectic and crazy, maybe a complete understatement of this year, but we've almost made it through and I think we all deserve a little moment to celebrate everything we managed to do this year…. psst, EPIC 2020 Giveaway.
With this year coming to a close and I think I can say we're all a little relieved. I think I can also say, we all should have a chance to win an EPIC 2020 Giveaway.
While staying home has proven to be challenging, I found the increased home time has been a win for my YouTube channel. I was able to surpass over 31,000 supporters, YAY! A win amongst the chaos.
I'm so grateful to have supporters, like you because, without you, I wouldn't be able to create the fun crochet creation that I do. 
With that said, I want to give something back! Welllll, me along with 30 other crochet designers and creators.
EPIC 2020 GIVEAWAY!!!
YEP, you read correctly,  30 wonderful and talented designers worked together to give you an EPIC 2020 Giveaway, a chance to win some amazing yarny prizes!

Epic 2020 Giveaway includes:
WeCrochet Magazine issues 1-5
A 3-month subscription to KnitCrate
Over 30 crochet patterns
A Guide to Creating Garments that Fit Ebook
Yarn Themed phone wallpaper
Make it Happen Planner Set for Makers
Enrollment in Amelia Makes Crochet Vault
And more!
There are OVER 30 patterns, coupon codes to your favorite shops, access to a pattern vault, 3 months of yarn mail from KnitCrate, and 5 Issues of WeCrochet Magazine!
I'll be gifting a Free PDF pattern of my Crochet Textured Headband AND I'll be giving a 50% off discount to my just-released Sunrise, Sunset Crochet Mittens.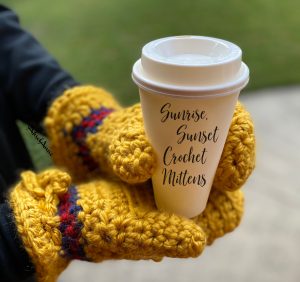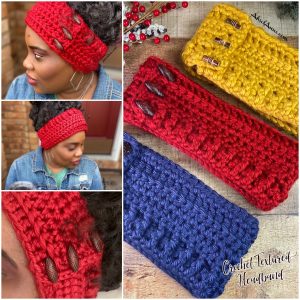 The FREE Version of my Crochet Textured Headband, anyone? Through the Epic 2020 Giveaway, you can get a free PDF download bt Scroll down and I'll share with you my simple pattern to create a crochet headband that can double as ear warmers.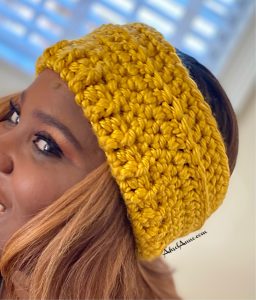 The Crochet Headband is so stylish and easy to create, as a result, everyone will be asking you to make them one.
This crochet headband pattern is a beginner-friendly project and can be adjusted for size. I used a thick and chunky yarn that makes this not only a cozy crochet creation, but it works up quickly. How quick? It can be made in under an hour.
 All About the Yarn:
I opted to use Hometown Yarn by Lion Brand. This chunky hometown yarn is ideal because of it's soft textured and light sheen. It can make your project appear expensive, even though the yarn is a great value…sshh.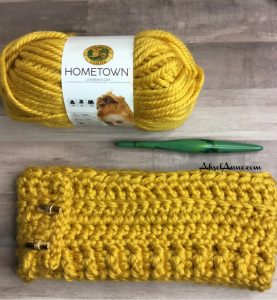 You'll only need one skein and there are plenty of yarn colors to choices.
However, all is fair in love and yarn, therefore pick-up any bulky 6 yarn and let's get started.
PATTERN
NOTE:
This pattern is written in US terms and there is a key provided, to help with any abbreviations.
There are hyperlinks included, with this pattern. You can click on the links and you'll be taken to products used to create this crochet headband.
MATERIALS
– Hometown Yarn- Lion Brand Madison Mustard
– Crochet Hook- 8MM
– Crochet Hook -6MM (optional)
– Yarn Needle
– Scissors
– Buttons (Optional)
ABBREVIATIONS (US TERMS):
ch- chain
dc- double crochet
blo- back loop only
bpdc- back post double crochet
fpdc- front post double crochet
hdc-half double crochet
sc- single crochet
sl st- slip stitch
st(s)- stitch(es)
tw- turn your work
MEASUREMENT
The finished product measured approx. 11" in length (folded) and 4".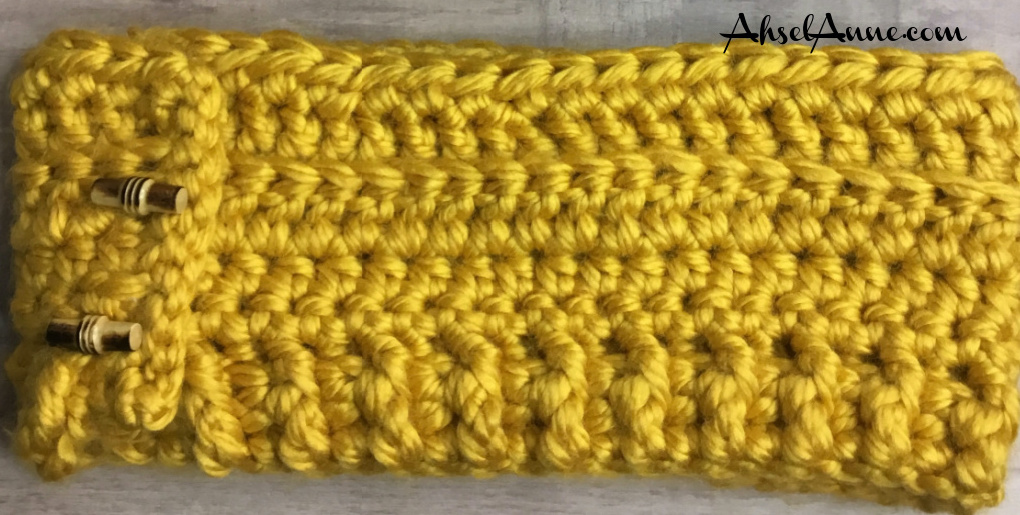 Please Note: This is worked in rows and followed with buttons to create the adjustable option.
Measure the circumference of your head and this number will be the length of your foundation chain, in inches (or cm).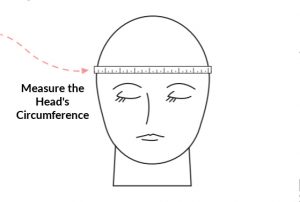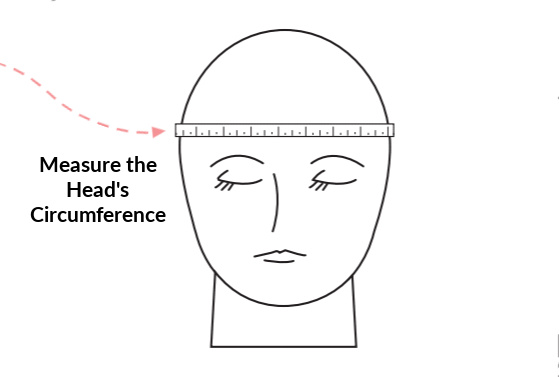 My Circumference was approximately 22"-23", my foundation was 50 stitches.


Please follow and like us: