Fall Into Autumn 2022 Blog Hop
 I absolutely love Learning, Creating, and Sharing.
This post has affiliate links. See my Disclosure Policy for details for the Fall into Autumn 2022 Blog Hop.
Over 30 Patterns in the Fall Into Autumn Blog Hop
000of Christmas Crochet Patterns
My favorite time of the year is right around the corner.  The fun
Fall fashions and accessories, popcorn treats, and candy apples are the perfect complements to this beautiful season. I absolutely love this time of year and I think you will absolutely LOVE these beautiful Fall crochet patterns brought to you by the Fall Into Autumn 2022 Blog Hop.

I'm super honored to be participating in this year's Fall into Autumn 2022 Blog Hop, hosted by Itchin' for some Stitchin, and NedandMimi.com and sponsored by WeCrochet.
What is a  Blog Hop, you may ask? Well, it's a link-up of some creative crochet designers to bring YOU Awesome PDF Crochet Patterns, in this case, Fall Inspired Crochet Patterns …. for FREE. Yep, for 24 hours, each day, during the blog hop you can get the featured PDF crochet patterns for FREE!
How does that sound?!?  Well, let me tell you how you get the FREE PDF Patterns.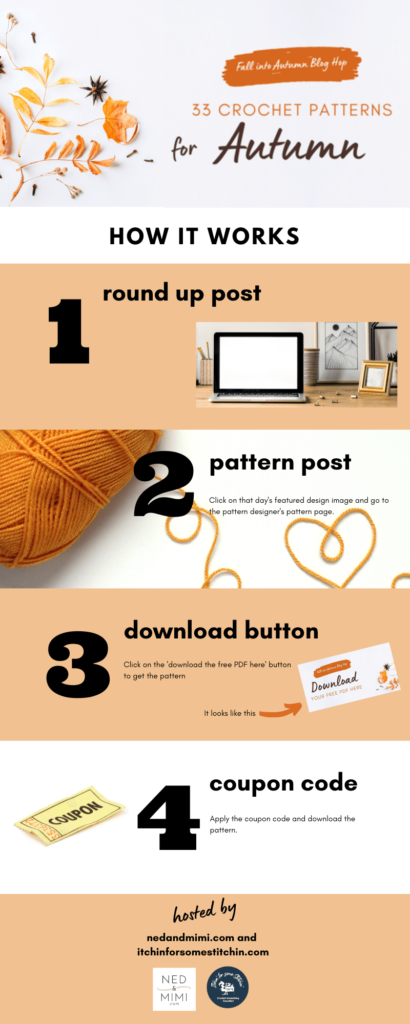 IN a nutshell:
Head over to RaeLynn from Itchin' for some Stitchin's and bookmark her page and check back daily between September 1 to September 15th, for the promo code to claim that day's featured pattern.
From September 16th- 30th head over to Sarah from Ned & Mimi for the promo code to claim that day's featured pattern.
Go to Ravelry or to the designated website and Download your Free Pattern
Yep, you can download a free Fall crochet pattern, every day, for 30 days from September 1 – September 30, 2022.

A few things to remember about this blog hop:
Once it starts, it will move QUICKLY.
The blog hop starts September 1 – September 30, 2022
Each day, after the start of the Blog Hop you can grab your free PDF Pattern. Available for only 24 hours (12:00 am – 11:59 pm EST).
Here are some of the Amazing Crochet Designer Featured in the Blog Hop. Oh, I forgot to mention that. many of these patterns are Brand New, so you can get your hands on some awesome patterns!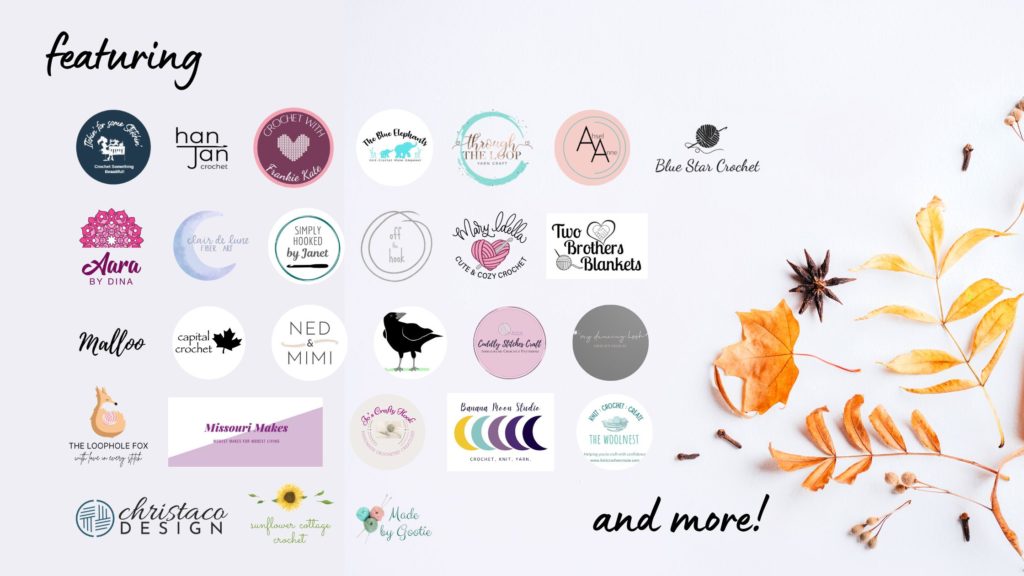 Get the Fall into Autumn Bundle
If you don't want to Hop Around,  you've missed a few patterns or you just want to get started with some of these beautiful crochet patterns, you can purchase the Fall into Autumn Crochet Bundle.
It has all 33 patterns, featured in the blog hop for over 90% off what you'd pay if you purchased them individually!
Get ALL the Patterns Here – 33 Crochet Patterns: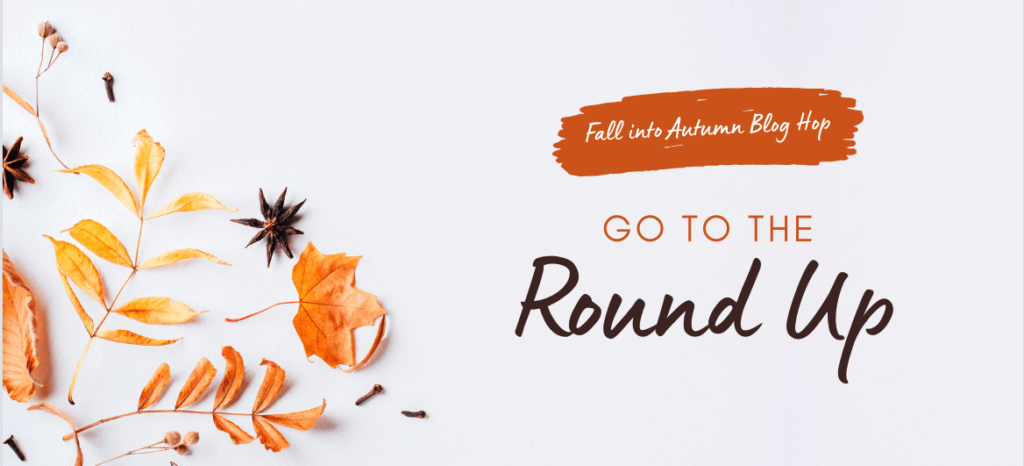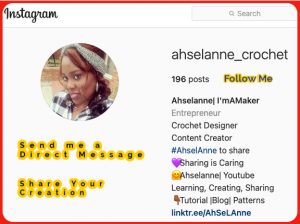 Be sure to follow me on Instagram so you stay up to date on the hop and my latest crochet creations. 
My Sandstone Cardigan Pattern will be featured next week as a part of the Fall into Autumn Blog Hop. So you can check back on September 6th to get the FREE PDF Pattern or CLICK the picture below to go to the written pattern, available on my website.
IF TODAY IS SEPTEMBER 6TH SCROLL DOWN TO THE DOWNLOAD BUTTON TO GET THE FREE PATTERN.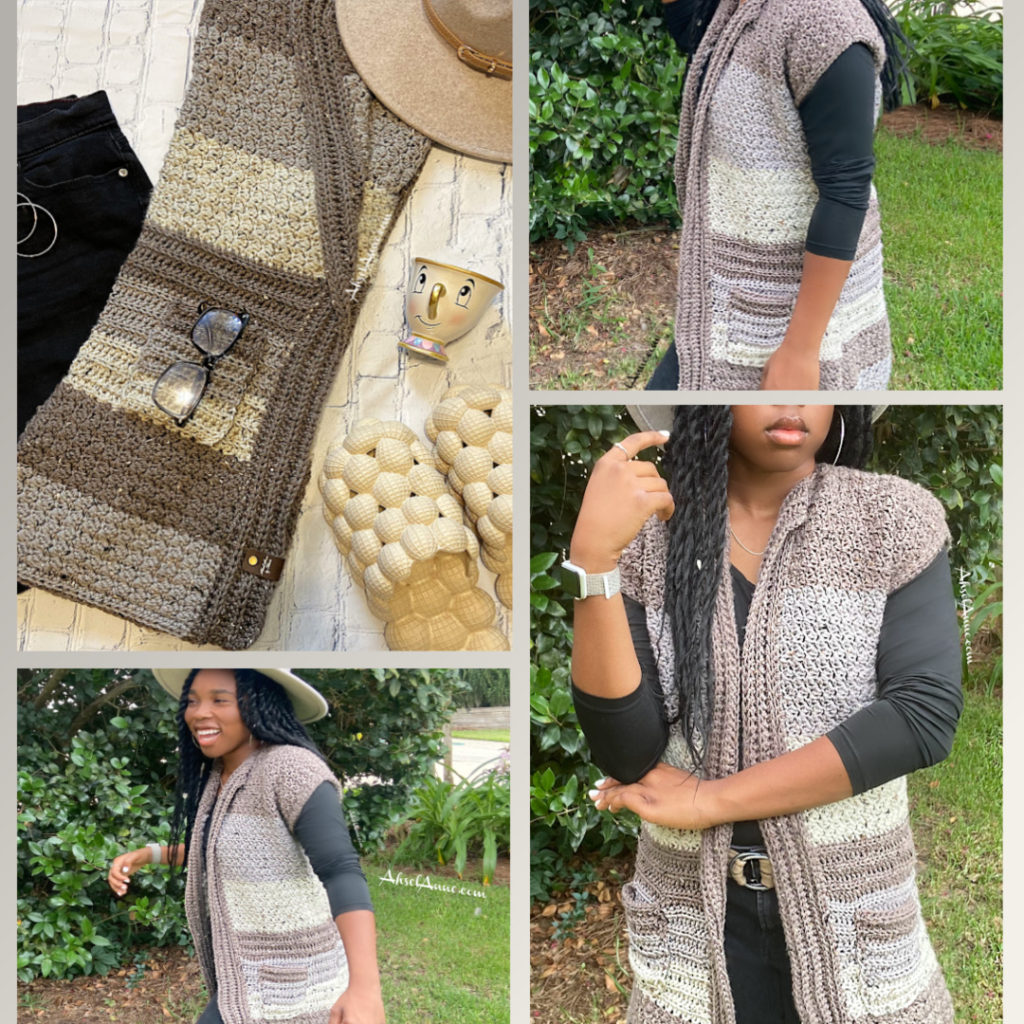 This project was sponsored by WeCrochet/Knitpicks as part of Fall into Autumn 2022 Blog Hop. Yarn was provided for the design. The post contains affiliate links, and is at no additional cost to you, please see my disclosure for full details.
Wait, Wait!
There is an awesome giveaway sponsored by WeCrochet. There are 5 prizes up for grabs – one grand prize and 4 runner-up prizes.
Grand Prize: Premium Winding Station Tool Kit + Fall into Autumn Pattern Bundle
4 Runner-Up Prizes: Fall into Autumn Pattern Bundle
And if you win but have already purchased the bundle, don't worry, you will get a full refund. (So, you don't need to hold off on buying the bundle if you would like to get started straight away!)

**Winner must be a resident of US, UK, Canada, or Australia for the We Crochet sponsored prize. See TERMS & CONDITIONS upon entry.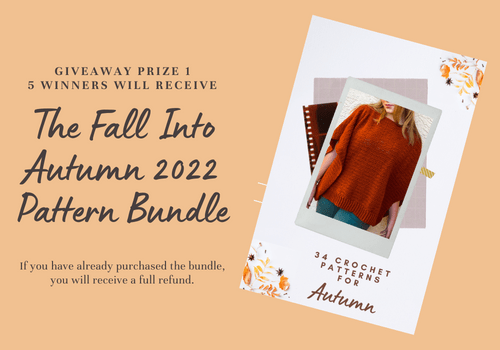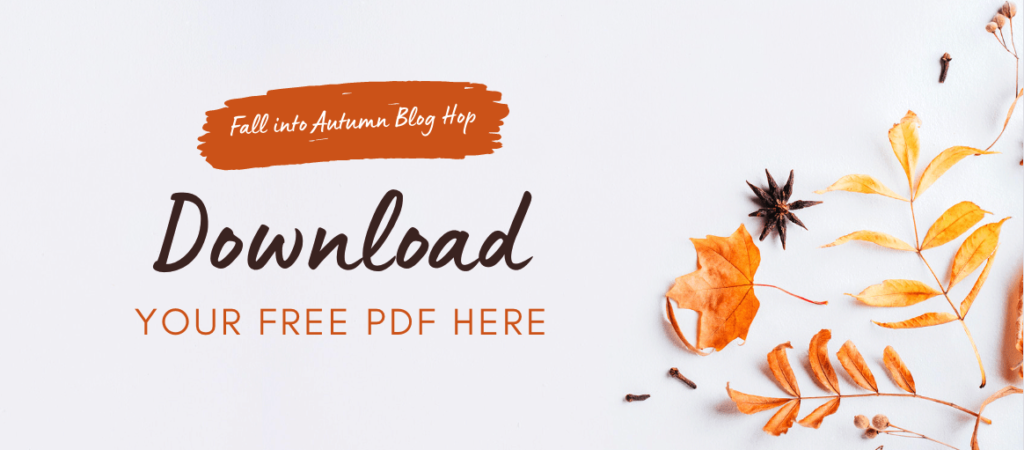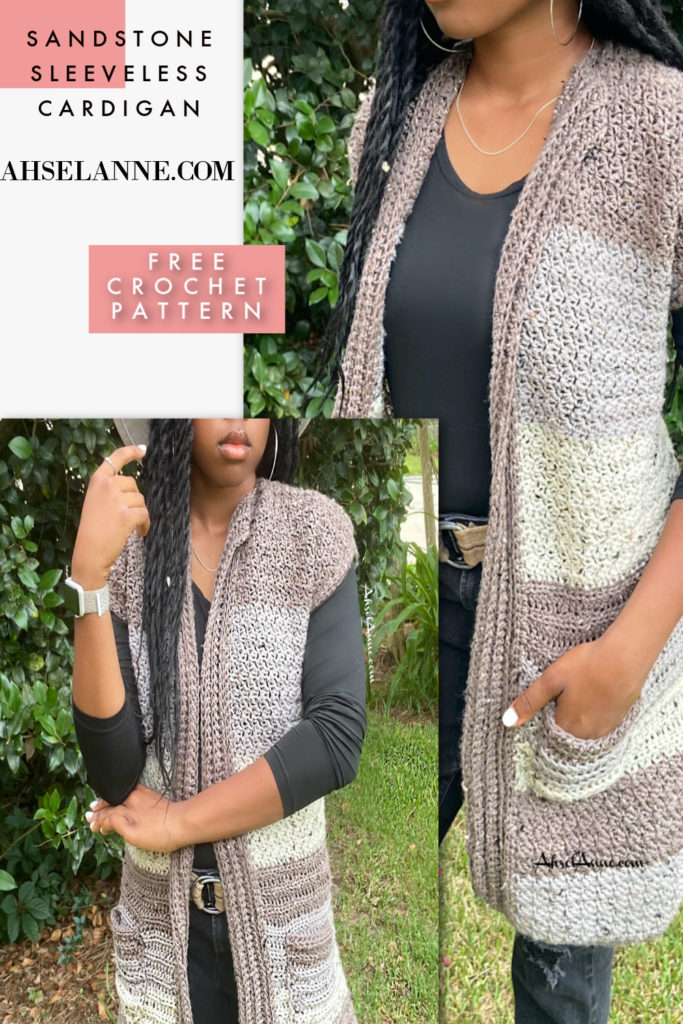 For an Ad-Free PDF Version of this Pattern Click Here- Ravelry
Please follow and like us: