Fall Décorations- Using 2×4…  cute wooden fall people/scarecrows. They are easy to make and they add a little character to your fall décor.
These Fall Decorations are a fun DIY project that even the kids can assist in making. You will only need a few supplies and you will be able to create cute customization fall decorations for your home.  It's amazing what a few 2×4's, paint and a little creativity can make. I enjoyed making these little fall people with my kids. They appropriately named them, "The Falls". My children enjoyed the painting portion of this project the most. I used hot glue to attached the details but you can also use project clue such as e6000 or super glue.
If you have scrap wood you can use that to create this project but if not wood can be found at your local hardware store and most places will cut it to size for free.
All you'll need to complete this fun project is listed below
Fall Decorations Materials
Materials Needed:                                                                        Optional:
* 2×4 – Cut into varies sizes (14'', 12'' and 8")                         * Knobs for Nose
* Sand Paper                                                                                  * Wiggle Eyes
* Raffia                                                                                            * Random Decorative Buttons
* Black Marker                                                                               * Any Other Decorative Pieces (You want to add to the Fall People)
* Acrylic Paint (Orange, Blue, Brown, Green)
* Burlap Ribbon/ Felt Sheets
* Scissors
* Hot Glue Gun or Regular Glue
* Yarn, Tweed, or String
Steps:
1) CUT THE 2X4 INTO VARIES SIZES AND SAND THE EDGES OF THE WOOD
2) PAINT THE WOOD, USING THE ACRYLIC PAINT
3) ARRANGE THE DECORATIVE PIECES (I.E THE NOSE, EYES, BUTTONS OR ANY OTHER DECORATIVE PIECES)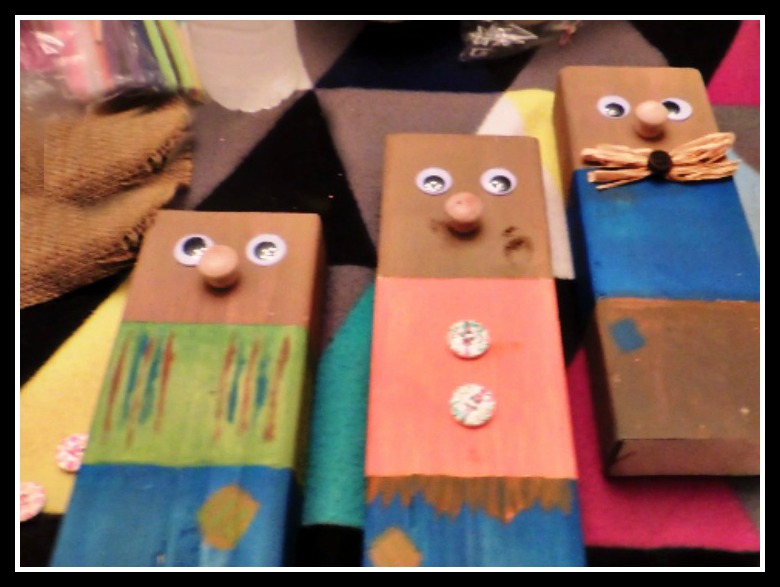 4) GLUE DOWN ALL THE PIECES
5) DISPLAY YOUR FALL DECORATIONS
Check out the below video for more detail instructions:
Please follow and like us: