Hey Ya'll! On, October 29th, I am featured on the Countdown to Christmas blog hop hosted by Ned and Mimi and Itchin' for Some Stitchin'! This is a great collaboration with some really talented crocheters and knitters.
This is a wonderful event and a perfect way for you to get your hands on some really awesome crochet patterns.
Every day between Oct 1 and Nov 1, there will be a different featured designer, and you can get their pattern. Amazing Right?!?
How do you get the Printable PDF Patterns!?
Here are the ways to get your hands on these creative crochet printable PDF patterns:
If you're like me and didn't get all the patterns you can purchase ALL 30 Patterns + 7 bonus patterns for over 90% off the individual retail price. Over 30 + PDF Patterns, in one bundle, for $12.99. Purchase a download of the whole collection! 
On
October 29th,

y
ou can get your hands on the Crochet Vintage Candles pattern

FOR FREE

, on that day only.
My feature day is October 29th, on that day only, you can get a printable PDF download of my Vintage Crochet Candles Pattern! Here's how you get the free download:
1. Visit the Roundup page on Itchinforsomestitchin.com for the discount code.
2. Go to Ravelry to see the Vintage Crochet Candle or click the "Download" button below. 
3. Enter the coupon code to get the free pattern download.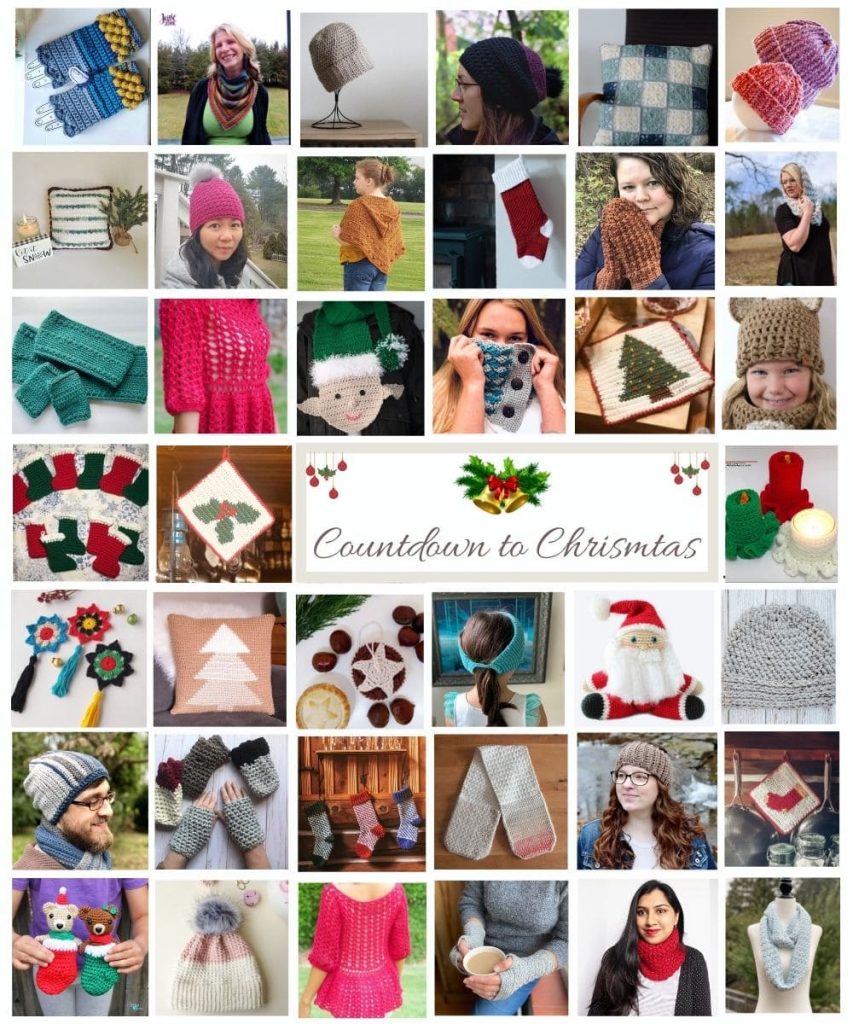 There will also be a giveaway of the pattern bundle! You can enter each day this month by visiting the Blog Hop homepage! (If you purchase the bundle and then find out later you have won the giveaway, you will be reimbursed for your purchase.)
Below you will find more information about my Crochet Vintage Candles. This is a free version here on my site.
The Crochet Vintage Candles mimic pillar style candles. The frilly skirt, around the candle's bottom, adds to the vintage design. This is an easy to follow crochet design that can be easily customized.
The crochet vintage candles can be paired nicely with real candles to add a nice ambiance to your holiday décor. They can be staged alone or in a cluster, which can make for a beautiful table centerpiece.
PATTERN for Crochet Vintage Candles
NOTE:
This pattern is written in US terms and there is a key provided, to help with any abbreviations.
MATERIALS
– Any 4 weight Acrylic Yarn- Red heart Supersaver
– Orange Yarn for flame (Optional)
– Scissors
– Toilet Paper Roll (inner cardboard tube) or Craft Rolls
This project uses a small amount of yarn, less than 131yd, pending on the size candle created.  You can use any festive yarn color to create a solid candle or you can use multiple colors to change the design. You may need a small amount of orange yarn to create the flame.
ABBREVIATIONS (US TERMS):
ch- chain
dc- double crochet
2dc- two double crochet into the same stitch
3dc- three double crochet into the same stitch
sc- single crochet
sl st- slip stitch
st(s)- stitch(es)
tw- turn your work
CANDLE TOP
Round 1: Create a Magic Circle or Magic Ring, ch 3, Place 7 dc into the magic circle (total 8), sl st to join. Pull circle closed, Ch 3 (will count has 1st dc).
Round 2: 1dc, 2dc in each st around (16), fasten off, leaving a long tail (approx. 6").
Note: The tail will be used to attach the circle to the candle.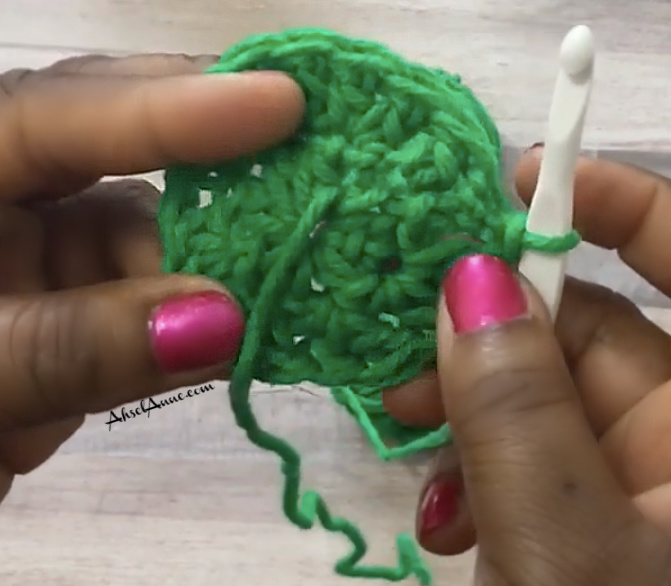 Candle
Ch 25+1
1.Row 1: sc across, ch 1, tw (25).
2. Row 2: sc across, ch 1, tw (25);
3. Row 3-7: (Repeat row 2) sc across, ch 1 tw (25)
4. Row 8: sc across ch 2, tw (25). The ch 2 will count as the first dc in the next row.
Note:
The candle size can be customized. If you want a taller candle, make more rows. For a shorter candle make fewer rows.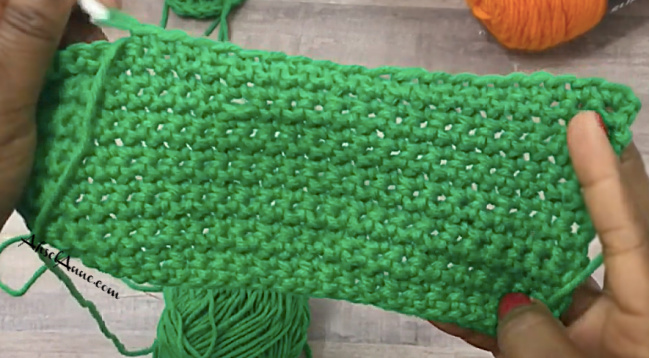 Candle Skirt
 Row 9: 1dc, 2dc each stitch across, ch 3, tw (50). The ch 3 will count as the first dc in next row.
Row 10: 2dc, 3dc each stitch across (150), fasten off, leaving a long tail. The tail should be long enough to sew up the side of the candle.
Flame
Using Orange Yarn, ch 8,
1. Row 1: sc across, ch 1, tw (7)
2. Row 2: sc across, fasten off. Leave a tail to attach flame to the center circle, created above.
Note: If the flame is too long fold in half before you attach. This is an optional step. The flame can vary based on your preference. To increase the thickness, create another row. To increase the height, make a longer foundation chain.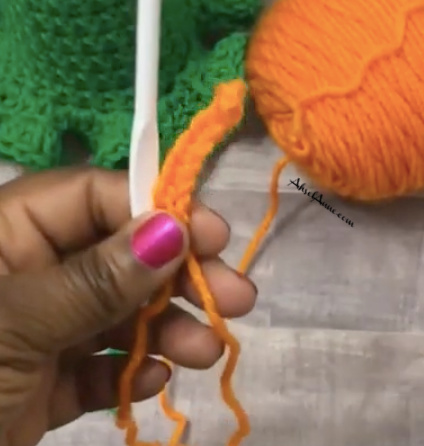 Construction of Candle
Using a yarn needle and the long tail from the circle, attach the circle to the top edge of the candle, there should be enough stitches to evenly attach the circle.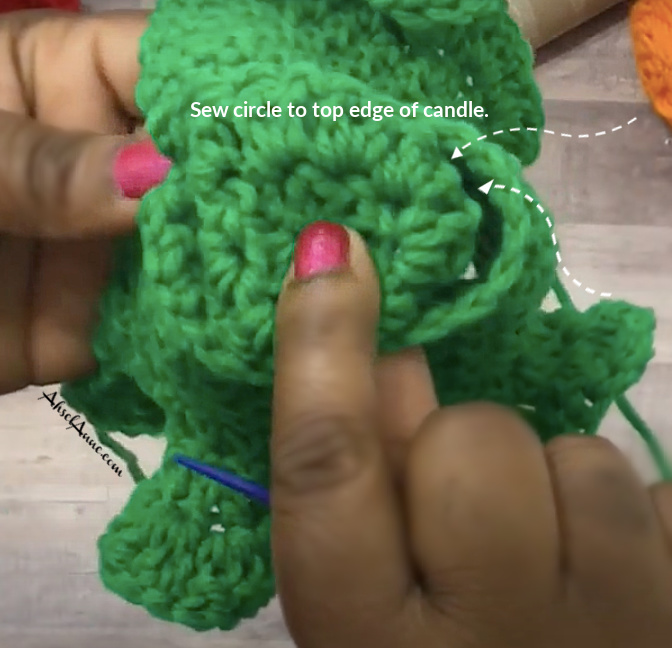 Note: Once the circle is attached it may pucker some, this is normal. You will push the circle down to form, the appearance of a well. (The flame will attach to the center of the circle).
– Sew along the side of the candle creating a cylinder. At this point, the candle will have a top but the bottom will remain open.
– Attach the flame to the center of the circle, using the long tail. Insert yarn needle, into the center of the circle, pulling through. Tie to the underside so the flame sticks up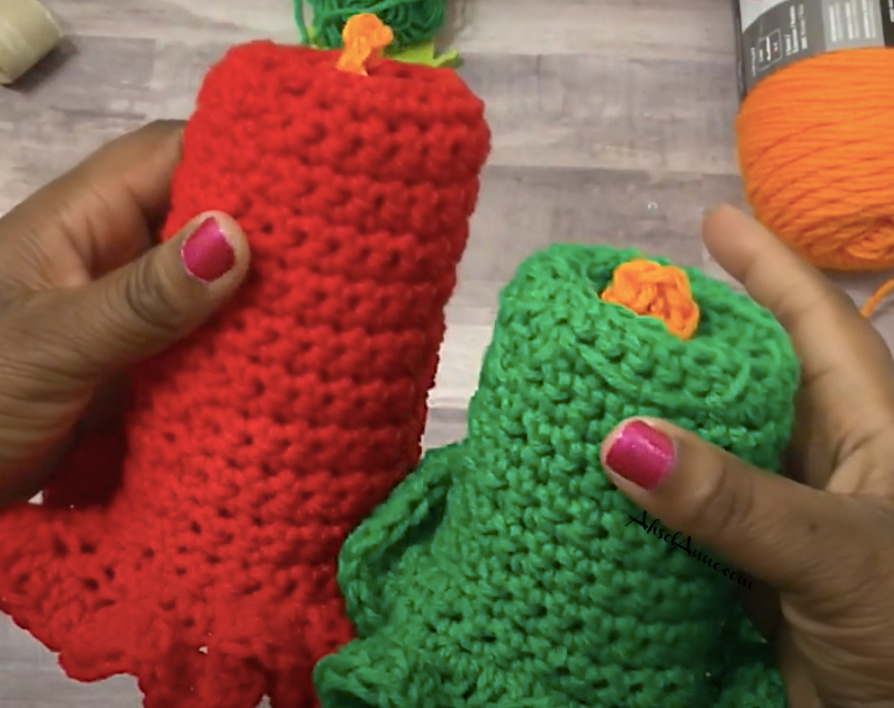 Optional Pattern Change:
To use with a real candle.
– Complete the candle and skirt as instructed above. Leave the circle top off. Insert a jarred candle.
– Your foundation chain will need to be customized to wrap firmly around your candle jar.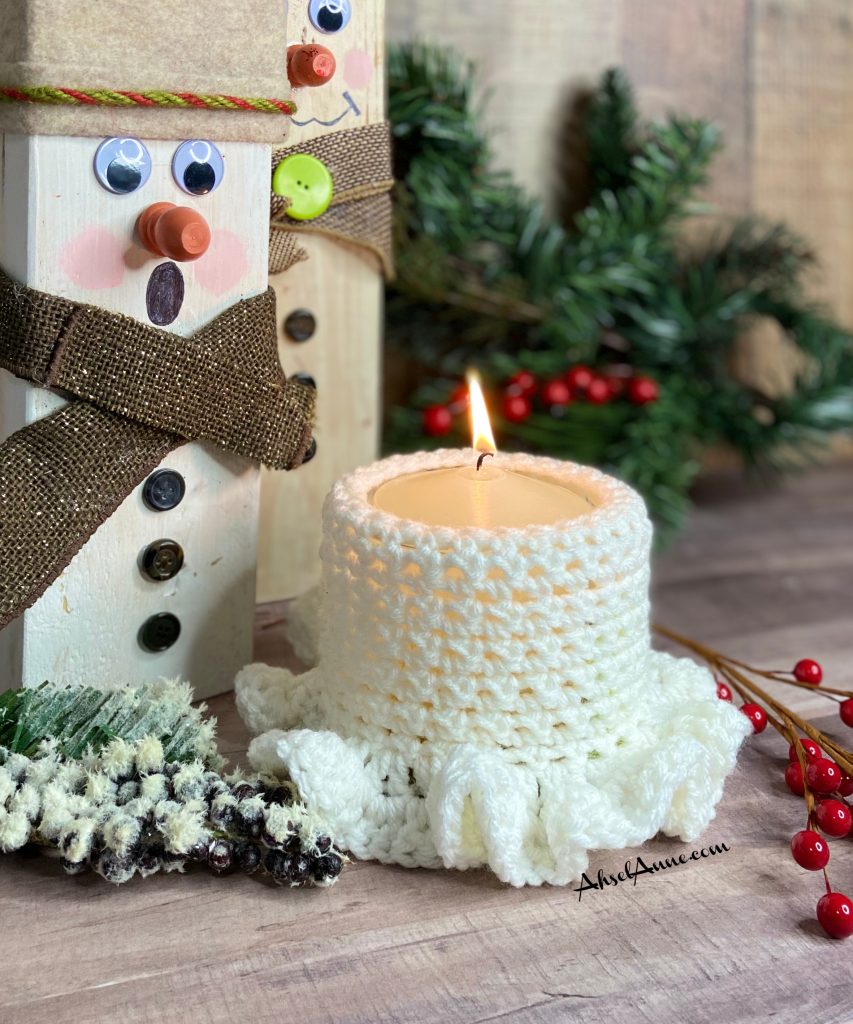 Enjoy your vintage crochet candle.
Check out the video Tutorial For additional instructions:
Please follow and like us: