100% Cotton Easy Crochet Dishcloths tutorial using
Sugar and Cream cotton yarn.  I've created a tutorial for easy crochet dishcloths that I hope is helpful. The size can be customized depending on what you desire. This dishcloth using one basic stitch, Half Double Crochet. If you know how to make a slip knot, a foundation chain, and the Half Double Crochet stitch, this project will work up quickly. Even you need help with any of these steps I've provided a written and video tutorial to assist you.
Crochet Dishcloths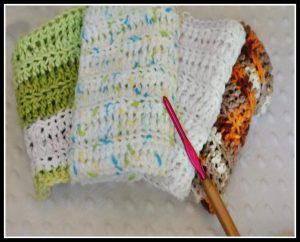 What You Will Need: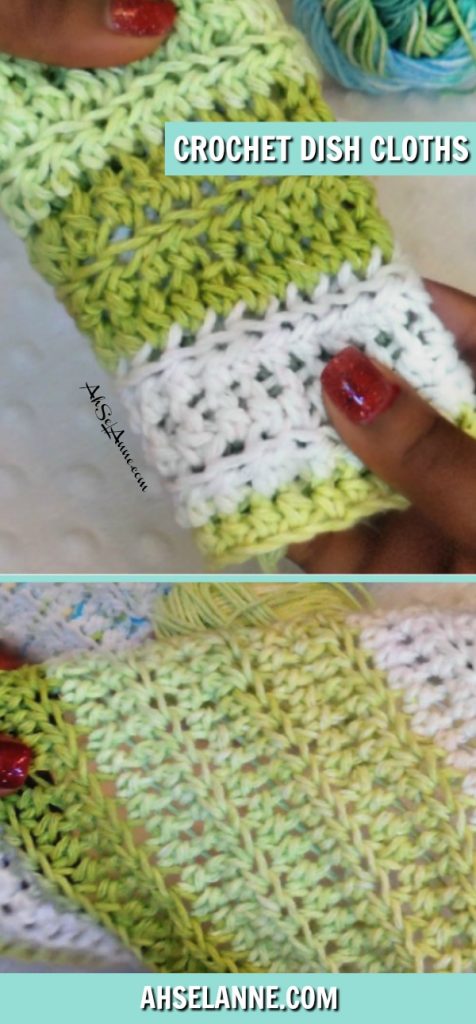 Want a more durable dishcloth using nylon yarn:
Check this out:
Crochet DishCloths with Nylon Yarn | Easy Crochet Dishcloths
Written Instructions for Easy Crochet Dishcloths:
1) Chain 28, plus 2 for a total of 30
2) Row 1: Place a Half Double Crochet (HDC) in the third chain from hook and then in each stitch across the foundation chain (29 half double crochets total). Chain 2 and then turn your work (the chain 2 serves as your first stitch in the second row)
3) Row 2: Place HDC in the second stitch from the hook. Crochet into the back loop of the stitch. (This will create a ribbed look). Continue down the row until you get to the end of the row.    Be sure to complete an HDC in the last turning chain stitch.
4) Row 3-20(or desired length): Repeat Row 2 until the end
5) Finish off the project and weave in the ends
Modification:
If you need to make a wider dishcloth, make your foundation chain longer. If you want your dishcloth longer crochet additional rows.
I used Sugar and Cream Yarn because it's often on sale and its 100% cotton, machine washable and machine dryable. You can use any brand of 100% cotton yarn to make these easy crochet dishcloths. Keep in mind cotton yarn can shrink so if you want it to stay a certain size you may want to add some additional stitches to your foundation chain.
Check out the below video tutorial:
Please follow and like us: