I was in need of a Simple Solution to Hide TV Cords. The wall in my guestroom bared a TV and hanging cords and it was screaming for help; so I searched for a Simple Solution to Hide the TV Cords of my mounted TV. Thanks to Pinterest, I came across an image of what I later recreated.
Check out my simple solution for hiding T.V. cords for less than $10, without destroying my wall.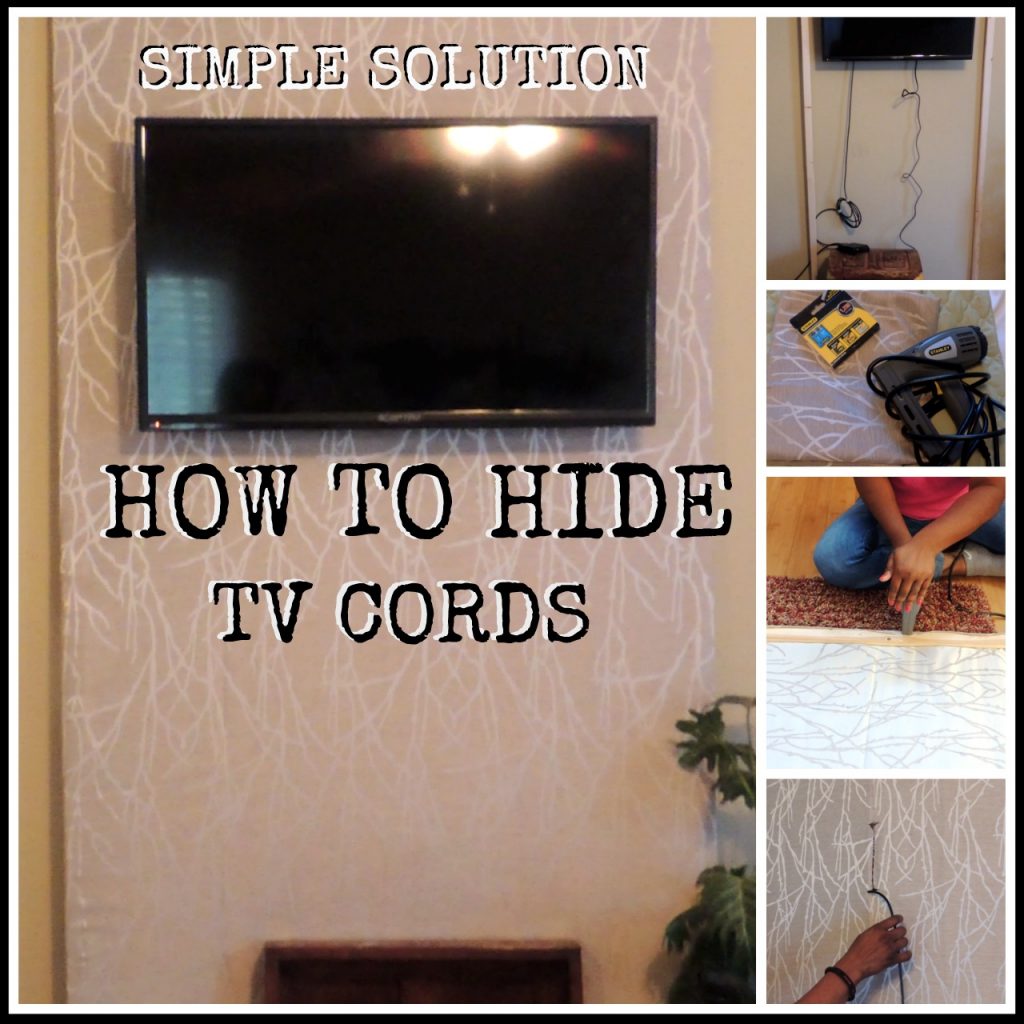 Materials Needed for a Simple Solution to Hide TV Cords:
1×4 – Cut to desired size (this will vary based on the size of your TV)
Fabric
Staple Gun
Staples
Scissors
Nails or Thumb Tack ( To hang canvas art/frame)
Measure and cut the 1×4 wood to desired size
Secure the 4 pieces of wood together with wood glue or nails
Use fabric to cover the frame.
 Spread out the fabric and place the wood frame on top.
 Pull tight and work for side to side to staple the fabric to the wood frame

Hang the canvas frame on the wall

Cut a hole in the fabric to pull the cords through
Position TV on top of the frame
Helpful Hints:
Most hardware stores will cut the wood for free. Also, you can look for scrape pieces of wood that can be purchase at a reduced price.
I used a curtain that I found on a clearance table. The curtain served as a pre-measured piece of fabric and I created my wood frame using the curtain measurements. If you want to purchase from a fabric store just measure the fabric that you will have about 4-6 inches on each side of the TV. This will allow the TV to have polished look on the framed canvas.
When stapling the fabric to the wood frame. I worked from side to side to ensure the fabric was fully stretched
For visual instructions see my video:
*This project was inspired by a Pinterest post. http://thefrontpoarch.com/how-to-hide-your-tv-cables-the-hard-way.
Please follow and like us: