Warning
: Array to string conversion in
/home/ahsela5/public_html/wp-content/plugins/tiled-gallery-carousel-without-jetpack/jetpack-carousel.php
on line
261
Warning
: Array to string conversion in
/home/ahsela5/public_html/wp-content/plugins/tiled-gallery-carousel-without-jetpack/jetpack-carousel.php
on line
261
Warning
: Array to string conversion in
/home/ahsela5/public_html/wp-content/plugins/tiled-gallery-carousel-without-jetpack/jetpack-carousel.php
on line
261
Warning
: Array to string conversion in
/home/ahsela5/public_html/wp-content/plugins/tiled-gallery-carousel-without-jetpack/jetpack-carousel.php
on line
261
Warning
: Array to string conversion in
/home/ahsela5/public_html/wp-content/plugins/tiled-gallery-carousel-without-jetpack/jetpack-carousel.php
on line
261
Warning
: Array to string conversion in
/home/ahsela5/public_html/wp-content/plugins/tiled-gallery-carousel-without-jetpack/jetpack-carousel.php
on line
261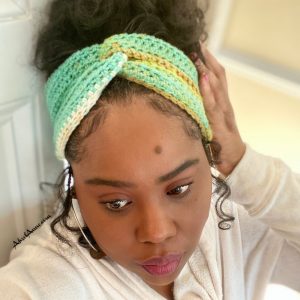 The turban-style headband can be worked up quickly. You can easily make headbands to match all your favorite outfits.
This pattern uses a few different crochet stitches; the single, the half-double, and the chain stitch. It's a beginner pattern and it can be easily worked. When finished, you should have a stylish crochet twist and turn headband turban.
Type of Yarn:
Caron Cupcake, Yarnspiration
Yarn Characteristics:
This is a 100% acrylic yarn with a weight of 3, 244 yards
Colorway:
Mint Smoothie
Yarn Needed:
You'll only need approx. 50 -100yards, to complete this project.
Note:
This yarn may be discontinued. However, any 3 or 4 weight acrylic yarn should work fine. Just make sure the yarn you choose has some durability since this is a wearable accessory. Lion Brand Mandala Yarn in colorway Warlock may be a good dupe for color and weight.
Skill Level

For a better understanding of Skill Level Click Here. You'll be led to the Craft Yarn Council, for a deeper understanding of Skill Level.
This is a project for the beginner. If you are new to crocheting you need to be comfortable completing single crochet, half double crochet stitch, and a chain stitch.
Here's another fun Headband to Create!!!
Note: This pattern is written in U.S. terms and there is a key provided, to help with any abbreviations. Also, there have been Notes placed throughout the pattern to provide additional help. There are a few pictures and instructional videos, that have tips on the different stitches used, the videos can be found on my website AhselAnne.com.
SUPPLIES
Yarn
50-100 yards of dk 3 weight yarn or 4 weight yarn
Hook
Crochet Hook 5.00mm
Notions
Yarn Needle
Scissors
Stitch Markers (Optional)
WANT AN AD-FREE, PDF VERSION OF THIS PATTERN?

CLICK HERE!!!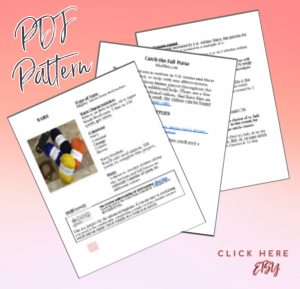 PATTERN DETAILS
Gauge
The gauge may vary based on your crochet style. It is not crucial for this pattern. Just adjust the foundation chain to ensure it fits the circumference of your head or the Headband Size.
To Adjust the Size:
Create the initial foundation chain and then place this chain around your head. You want the ends to touch without too much tension. Keep in mind the yarn will have some stretch.
Your stitches may vary some, but the overall pattern is worked the same.

Finished Measurement
Width Approx. 2 ¼"
Length 20″ch- chain
Abbreviations (US Terms) 
ch- chain
hdc- half double crochet
sc- single crochet
st(s)- stitches
sp- space
sl st- slip stitch
tw- turn work
yo- yarn over

Written Pattern
CH 76
Row 1: In 2nd st, sc in each st across. (75) ch2, tw (ch 2 will count as the first stitch in row 2).
Row 2: hdc, in each st across. (75) ch 2, tw
Row 3: hdc, in each st across. (75) ch 2, tw
Row 4: hdc, in each st across. (75) ch 2, tw
Row 5: hdc, in each st across. (75) ch 1, tw
Row 6: sc, in each st across. (75)
Tie off, finish. Leave a long tail.
Repeat, creating 1 more strand.
Construction
Once you have 2 strips/strands; Lay one strand over the other, criss-cross or perpendicular to one another.
Fold both strands in half, creating a link or loop. Using the long tail end and the yarn needle, sew the raw edge together.
below.
Fold the headband in half and sew the raw ends together to creating a solid band.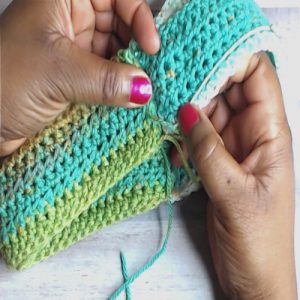 Weave in any excessive tails and shape headband. You are now ready to enjoy your Twist and Turn Turban style headband.
If you want to see a video tutorial of this pattern Keep Scrolling. 
Optional Finishing Step
You can stitch along the knot or linked area to ensure the twisted area stays in place.
Want a Video Tutorial?? Watch here:
Contact:
If you have any questions, please contact me via email at ahselanne@gmail.com
Disclosure/Legal:
Enjoy your Twist and Turn Headband Turban. Feel free to make and sell products from my patterns but please give credit to AhselAnne for the pattern. Please do not copy and post this pattern and claim it as your own. Please do not re-publish photos as your own. Distribution or sharing of this pattern pdf in any way is not permitted – if you like, please share the free version of this pattern from my blog ahselanne.com.
There are affiliate links that can lead you to the materials, that should work with this pattern. Affiliate links allow you to get quick access to the products I used or a similar product. I will earn a small commission for leading you to the products, but it does not affect your price.
Please follow and like us: